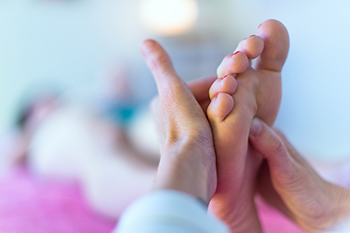 Foot massages are a popular form of foot therapy. They are effective in relieving stress and aches and pains. They can also help to increase overall well-being. There are several types of foot massages people can enjoy. Reflexology is a technique that uses pressure points that connect to specific areas of the body. A Swedish foot massage is considered the most relaxing type of massage, and can be effective in soothing tired feet at the end of the day. A deep-tissue foot massage applies intense pressure in certain areas of the foot, and it can help reduce injuries that are muscle related. Relaxation can be found when a hot stone foot massage is performed. The masseuses' hands are replaced by using hot stones that can soothe tired muscles. If you would like additional information about foot massages, it is suggested that you confer with a podiatrist who can provide you with the knowledge you are seeking.
Foot therapy is often necessary for those recovering from either foot deformities or foot injuries. If you have concerns regarding therapy, consult with Gary J. Kaiserman, DPM from Achilles Footcare Center. Our doctor can provide the care you need to keep you pain-free and on your feet.
Most Common Injuries
People who are active or athletes are prone to a variety of injuries. Therefore, it is often important to take part in physical therapy in order to quickly get back on the right track. 
What to Do When Injured
Physical Therapy – This specialized treatment will focus on the affected area, speeding up recovery and the overall healing process. It is a proven method that has helped millions of people return from any injury.
During physical therapy you will undergo regimented training to get back into full form. Training is often very difficult, especially at first when the foot feels weak. Physical therapy often involves:
Basic stretching and twisting exercises – getting the feet's mobility and flexibility up.
Massaging – the therapist will massage the injured area in order to activate the muscles and relax them.
Strengthening Exercises – this allows the muscles in the affected area to regain their full strength, a vital step towards full recovery.
If you have any questions please feel free to contact our offices located in Forest Lane and West Kiest Boulevard Dallas, TX . We offer the newest diagnostic tools and technology to treat your foot and ankle needs.
Read more about Foot Therapy for Sports Injuries